Original Art - Landscapes of the Mind
My paintings are interpretations of the elements of the landscape that have touched me emotionally. They are more about what I felt than about what I saw in the landscape itself. My hope is for the image to act as a catalyst to trigger those emotions again, in myself and in others.
- s. fisher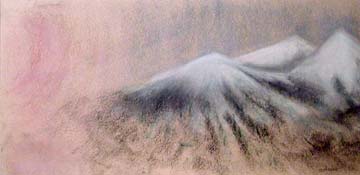 timberline dawn, 1998
Derivatives
Derivatives are the various incarnations of the Landscapes of the Mind collection and projects paintinggirl images has been working on. Art doesn't have to be limited to the original piece or to a so-called "artist." With digital images the work can be used and even changed in an infinite number of ways. The possibilities are endless.
Derivitives to date include using portions of the images on this website for labeling Birdsong Basics, locally created natural body products, and for cover art for "First Bloom", a music CD created by The Rhythmyth.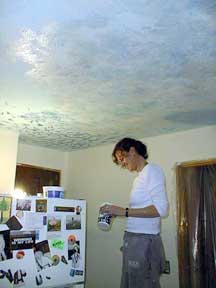 Other projects paintinggirl images is involved with include creating a digital portfolio of the paintings of RUTH, painting a sky on the ceiling at Rangerville, and ongoing development of this website with Rangerville's proprietor, Ranger Kidwell-Ross. Check out rangerville.com for info about Ranger and to see RUTH'S work. More derivatives to come....
Non-commercial uses of the images in this collection are welcome and encouraged. Images on this website may be downloaded for screensavers, cards, whatever. Feel free to play with the images; cut them up, change the colors, create your own derivative. Contact us if you would like a high resolution version of any of the images.
All images on this website are copyright 2000 by paintinggirlimages. Commercial use is by permission only. Please contact us for more information.