It was a night to remember...

Gypsy Lou said he'd met Benoit at the Wild Buffalo when Tab passed through the NW last year. When Lou went on to tell me that Tab was playing the Tulalip Casino in a few weeks, that seemed like plenty of time to try and get onstage with him. I even was so organized as to send an email intro along with an offer of staying here at Rangerville on what appeared to be an off day after the show.

However, it turns out his management agency doesn't forward him stuff like that. "Or at least that's what I figure," Tab told me when I asked him about it. "They want to make sure I'm out here making money every day and not getting distracted. There's never a day off." On the other hand, that's probably generally good advice when you've got someone like Benoit in your stable. After all, he's a musician who's currently considered the leading cajun guitar player in America and in the hunt for a Grammy. Who could blame them?

Lou and I thought we'd gotten started early enough to be able to find Tab prior to showtime. It turns out he went on half an hour earlier than advertised. And, amazingly, to only a half-full house in a venue that was free. All because it was the 4th of July and most red-blooded Americans were out blowing up the known universe instead of opting for the inside of a casino even to hear a showman such as is Tab Benoit.

As I came into the room I spotted Tab off to one side of the room. The warmup comedian had most of the audience into his standup. Unfortunately, just as I walked up to introduce myself to Tab, the head waiter rushed up to tell him the casino manager was holding open the stage door and was waiting on him. With only the briefest of polite brushoff, he took off with his bassman after the retreating waiter.

Without at least a pre-show introduction, the prospect of getting invited onstage to jam now seemed remote. However, once his show started and I heard to what songs he was choosing, many were ones that Gypsy Lou and I had covered in Thailandat the 2nd World Music Festival and elsewhere. So, I decided to let my instrument be the decider.

Lou agreed that he bet the idea would work. I went out to the car and got my 'RubBear Board' and weaved it in through the casino staffers by leaving it in its case. I made my way back to our table, which was center stage and back a couple of tables. I saw the front row table was still deserted.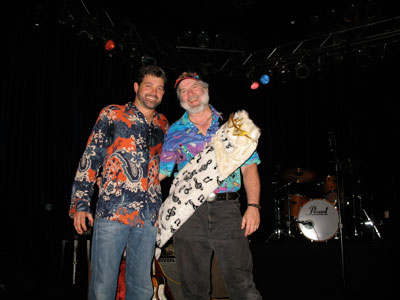 Waiting a song or two, until Tab played one of his soulful slow blues numbers where he had his eyes closed most of the time, I slipped the case off and sort of snuck the polar bear-adorned rubboard to where it faced the stage. Sure enough, Tab wasn't one to leave a rubboard like he'd never seen the likes of just sit there uncommented.
Here's the track that resulted, courtesy of a cd quality iPod sound grab someone made. It's in mp3 format. It was great fun to be onstage with Tab, and he gave every evidence of having a good enough time to ask me back up if our paths meet again. I certainly hope they do.