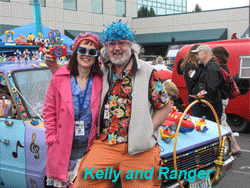 Check out this link for pictures of TOYNOTA at the 2010 SACBO event.

Also there at this year's Blowout were a number of other incredible cars. I put together a slideshow of those, as well. They are linked here. Note that both open into new browser windows.
---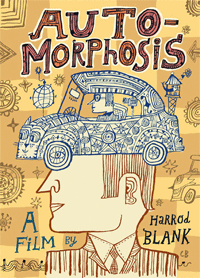 In addition to the other cartists, this year we all had the honor of having in attendance Harrod Blank, builder of 7 art cars and producer of the art car movie, Automorphosis. Harrod turns out to be a great individual and extremely knowledgable but also, as all the art car fanatics seem to be, a good guy to 'hang with,' as well. If you ever get an opportunity to see Harrod's movie, don't pass it by!
---
Here is a 6-minute video of some of the art cars driving around Seattle neighborhoods on Sunday, June 20th.
---
Check out Scot "Extremo the Clown" Campbell as he parks, jousts and sings in the rain.
---
Check out the responses from the 'mysterious commander' of the Shuttle Art Car Van. Could the vehicle be part of a secret government plot to get signatures promoting cannabis smoking? Surely not! You make the call after you view this interview done by the I-Witless News Team...
---
Ranger also assisted his pal, Bugs Bunny, in jousting for doughnuts.
Use your browser's back button to return to the previous page.